Lani Eko & Company served as a subcontractor on the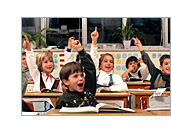 2009, 2008, 2007, 2006 and 2005 CFO Act audits of the U.S. Department of Education (the Department). The audits were performed in accordance with generally accepted auditing standards, Government Auditing Standards, issued by the Comptroller General of the United States, and applicable Office of Management and Budget Bulletin, Audit Requirements for Federal Financial Statements. At September 30, 2007, the Department had over 300 appropriations, total assets of $230 billion, and budgetary resources of $300 billion. Annually, the Departments provides $60 billion of grants to state and local education agencies; and $85 billion of loans to students, parents and institutions under the Direct Student Loan Program, the Federal Family Education Loan Program, and the Facilities Loan Program.
Also, Lani Eko served as the independent review manager on the financial advisory engagement to the Department. The purpose of the engagement was to evaluate the processes by which payments can be made by the Department and to determine if these processes were adequately controlled and effective. The engagement composed of three phases: a) identification of the 12 key payment processes ($50 billion disbursed annually) by the Department employees; b) developing business process maps that document each payment stream; and c) identification and reporting of opportunities for enhancement of controls and improved efficiencies in the identified payment streams. The engagement resulted in 12 reports documenting business process maps, observations, corrective actions and best practices.

BACK TO TOP